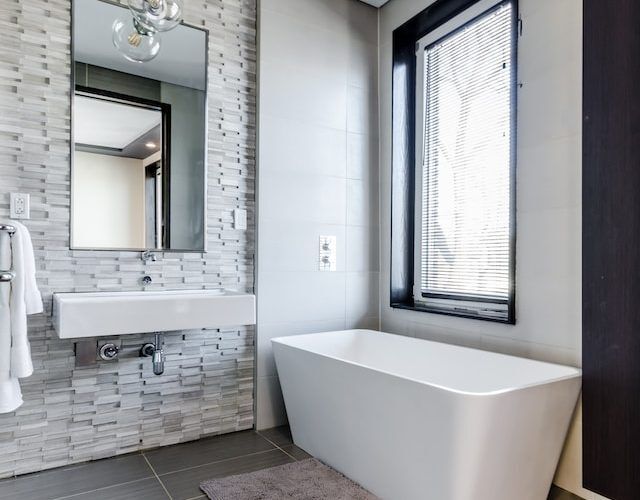 When Updating Your Main Bathroom, it's essential to consider your needs. What are the things you wish to change about your current bathroom? Do you need more storage? Do you want to upgrade your shower or bathtub? Identifying your needs will help you plan your renovation effectively.
Embrace the Trends
Keeping up with bathroom trends can give you inspiration and ideas for your renovation. In 2023, minimalism, bold accents, and natural materials will dominate bathroom design. Embracing these trends can help you create a timeless, modern bathroom you'll love for years.
Add a Touch of Luxury
Adding a touch of luxury when updating your main bathroom can make all the difference in your main bathroom. Consider upgrading your fixtures, adding a statement piece like a freestanding bathtub, or installing heated floors for that spa-like feel.
Don't Forget About Lighting
Lighting can make or break a bathroom's ambiance. Consider adding different types of lighting, such as task, ambient, and accent lighting. It will create a layered and inviting atmosphere.
Incorporate Eco-Friendly Features
Incorporating eco-friendly features into your bathroom renovation can save you money on utilities and reduce your environmental footprint. Consider low-flow showerheads, dual-flush toilets, and LED lighting to create a sustainable, energy-efficient bathroom.
Conclusion
Updating your main bathroom can transform your daily routine and increase the value of your home. Whether you're looking to add luxury, embrace the latest trends, or incorporate eco-friendly features, there are many ways to enhance your bathroom's functionality and aesthetic appeal. If you're ready to start your main bathroom renovation, contact Pro Utah Remodeling, a professional remodeling company that can help bring your ideas to life.
About Us
Here is the list of cities Pro Utah Remodeling provides Bathroom Remodeling. The company also covers the areas around these cities:
Alpine, Herriman, Eagle Mountain, Lehi, Vineyard, Lindon, Saratoga Springs, Orem, and American Fork.
Click on the city/area you live and complete the form. We will contact you as fast as we can!

Have you already worked with us? Please give us a positive review to help our company grow!