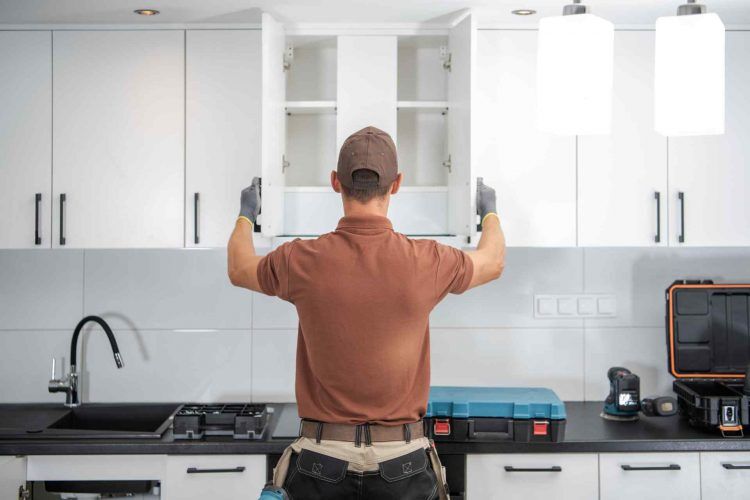 Welcome to Pro Utah Remodeling's ultimate guide on expert kitchen cabinet installation!
Getting your cabinet installation right is crucial to transform your kitchen into a functional and aesthetically pleasing space.
In this blog post, I'll take you through installing kitchen cabinets like a pro. Whether you're a seasoned DIY enthusiast or a homeowner looking to hire professionals, our guide covers you!
Why Proper Kitchen Cabinet Installation Matters
Before we dive into the nitty-gritty of cabinet installation, let's understand why it matters. Kitchen cabinets are pivotal in your kitchen's overall functionality and design.
Besides providing ample storage space, they also contribute to the visual appeal of your kitchen. A well-installed cabinet not only ensures smooth usage but also enhances the value of your home.
Cabinet Installation Guide: Step-by-Step Process
1. Planning and Preparation
The key to a successful cabinet installation is meticulous planning. Measure your kitchen space accurately and assess your storage needs. Decide on the layout and design of the cabinets, considering factors such as accessibility, door styles, and finishes.
2. Gathering the Right Tools and Materials
To execute a flawless installation, gather the necessary tools and materials. You'll need a measuring tape, level, screwdriver, drill, cabinet screws, shims, and safety equipment.
High-quality cabinets are a significant investment, so using the right tools to protect your investment is essential.
3. Removing Existing Cabinets (If Applicable)
If you're renovating your kitchen, you'll likely need to remove the old cabinets first. Carefully uninstall them while taking precautions not to damage the walls or other fixtures.
4. Installing Upper Cabinets
Begin the installation with the upper cabinets. Using a level, ensuring to perfect install straight and level. Secure the cabinets to the wall studs with sturdy cabinet screws. Use shims to make any necessary adjustments.
5. Installing Base Cabinets
Next, move on to the base cabinets. Align them properly with the upper cabinets and level them accordingly. Secure the base cabinets to the wall and adjoining cabinets with screws. Double-check the alignment and adjust as needed.
6. Adding Cabinet Doors and Hardware
Once the cabinets are in place, it's time to add the cabinet doors and hardware. Adding them is where your kitchen's aesthetics come to life. Choose door styles and hardware that complements your kitchen's overall theme.
7. Ensuring Proper Functionality
Test all the cabinet doors and drawers to ensure they open and close smoothly. Adjust hinges and sliders if necessary to achieve the perfect fit.
8. Professional Cabinet Install
While a skilled DIY enthusiast can accomplish the above steps, hiring a professional cabinet installation team offers several advantages. A professional ensures precise measurements and seamless installation and guarantees the longevity of your investment.
Pro Utah Remodeling: Your Trusted Bathroom Remodeling Company
At Pro Utah Remodeling, we pride ourselves on being more than just a bathroom remodeling company. With our expertise in kitchen cabinet installation and many satisfied clients, we stand out as a trusted name in the industry.
Our team of skilled professionals is dedicated to delivering top-notch services, ensuring that your dream kitchen becomes a reality.
Ready to transform your kitchen with expert cabinet installation? Contact Pro Utah Remodeling today at www.proutahremodeling.com for a consultation and witness the magic of our craftsmanship!
About Us
Here is the list of cities Pro Utah Remodeling provides Kitchen Remodeling. The company also covers the areas around these cities: Alpine, Vineyard, Orem, Lindon, Lehi, Herriman, Eagle Mountain, American Fork, and Saratoga Springs.
Click on the city/area you live and complete the form. We will contact you as fast as we can!
Have you already worked with us? Please give us a positive review to help our company grow!