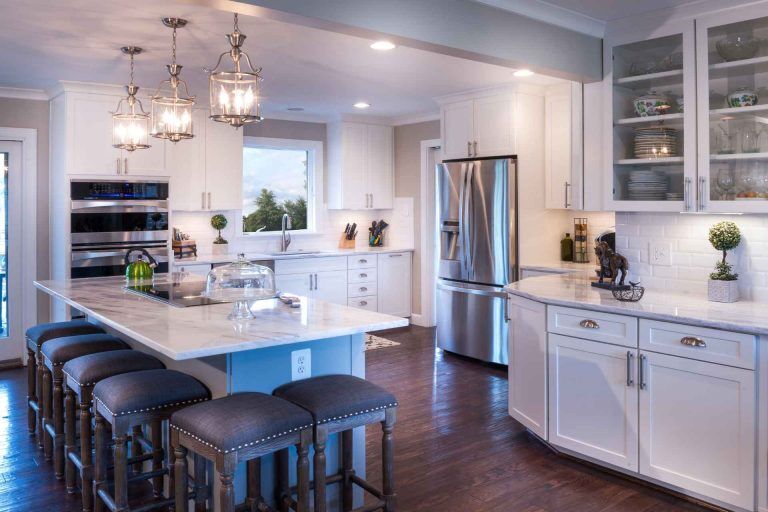 We understand that the kitchen is the heart of your home, and we're here to provide you with valuable insights to elevate your kitchen design to a whole new level. Let's dive right into the five essential tips to achieve the kitchen of your dreams.
Understanding the Concept of Stylish Kitchen Renovation
A stylish kitchen renovation is not just about aesthetics; it's about functionality, comfort, and expressing your unique personality through design. When planning your kitchen renovation, take a moment to visualize how you want your space to look and feel.
Consider the color scheme, materials, and layout that resonate with your style. Modern kitchens often incorporate sleek lines, minimalist designs, and innovative storage solutions.
At Pro Utah Remodeling, our team of experts can assist you in customizing a stylish kitchen renovation plan that aligns perfectly with your vision.
Choosing the Right Cabinet Style for a Modern Look
Cabinets play a pivotal role in defining the overall ambiance of your kitchen. Opt for functional and visually appealing cabinets for a modern and fashionable kitchen design.
Shaker-style cabinets are popular due to their simple yet elegant design, while flat-panel cabinets offer a more contemporary vibe.
Consider incorporating glass or metal for cabinet doors to add a touch of sophistication. Our skilled designers at Pro Utah Remodeling can guide you in selecting the perfect cabinet style that complements your desired modern aesthetic.
Embracing Smart Kitchen Technology
In the era of smart homes, integrating technology into your kitchen can elevate your renovation to the next level. Consider adding intelligent appliances, such as a touchscreen refrigerator, voice-activated lighting, or a hands-free faucet, to enhance convenience and efficiency.
Embracing innovative technology adds a modern touch and elevates your kitchen's functionality. At Pro Utah Remodeling, we keep ourselves updated with the latest trends and can help you incorporate cutting-edge technology seamlessly into your stylish kitchen renovation.
Remember, a stylish kitchen is more than just a place to cook; it's a space for creating memories and cherishing moments with your loved ones. So, take the first step towards your dream kitchen and contact Pro Utah Remodeling today!
Playing with Lighting and Colors
Lighting and colors play a significant role in creating the desired ambiance in your kitchen for a modern and stylish renovation, combining natural and artificial lighting to brighten the space and create a warm, inviting atmosphere.
Pendant lights over the kitchen island or under-cabinet lighting can add a touch of elegance. Regarding colors, neutrals like white, gray, and beige are timeless choices for a modern look.
Additionally, consider adding a pop of color through decorative elements or accessories. Our team at Pro Utah Remodeling can help you strike the perfect balance between lighting and colors to achieve the desired fashionable kitchen design.
Maximizing Storage and Organization
A clutter-free kitchen is a crucial aspect of modern design. Maximize your storage options with innovative solutions like pull-out drawers, corner cabinets, and built-in organizers.
Keeping your countertops clean and organized will enhance the aesthetics and improve functionality. Our experts at Pro Utah Remodeling have a wealth of experience optimizing kitchen storage, ensuring to utilize every inch of your kitchen efficiently.
Congratulations! You now know the top five stylish kitchen cabinet renovation tips. We've got you covered whether you're aiming for a fashionable kitchen design or a modern cabinet remodel.
Conclusion
Creating a stylish kitchen through cabinet renovation requires thoughtful planning and attention to detail. You can achieve a modern and fashionable kitchen design by understanding the concept of stylish kitchen renovation, choosing the right cabinet style, embracing innovative technology, playing with lighting and colors, and maximizing storage and organization.
At Pro Utah Remodeling, we are passionate about helping our clients transform their kitchens into spaces that are not only aesthetically pleasing but also functional and practical. With our expertise and dedication to excellence, we are confident that we can deliver the kitchen renovation of your dreams.
About Us
Visit our website, www.proutahremodeling.com, to explore our portfolio and schedule a consultation. Let's embark on this exciting journey together and create the kitchen of your dreams!
Here is the list of cities Pro Utah Remodeling provides Kitchen Remodeling. The company also covers the areas around these cities: Alpine, Vineyard, Orem, Lindon, Lehi, Herriman, Eagle Mountain, American Fork, and Saratoga Springs.
Click on the city/area you live and complete the form. We will contact you as fast as we can!
Have you already worked with us? Please give us a positive review to help our company grow!