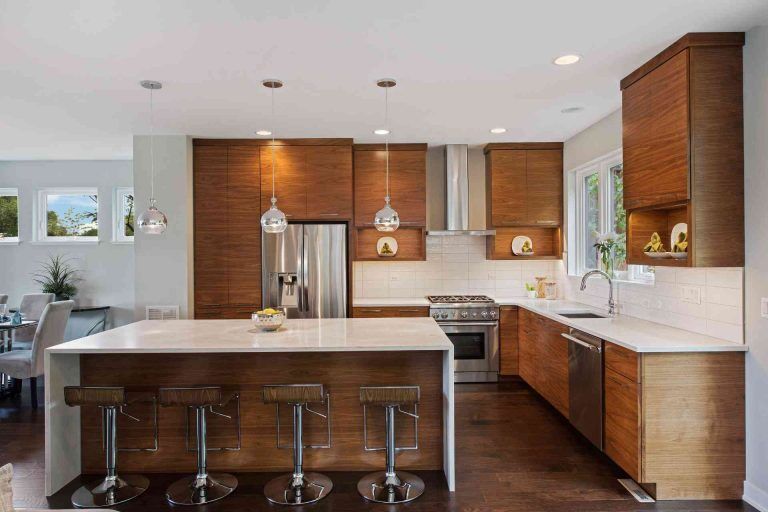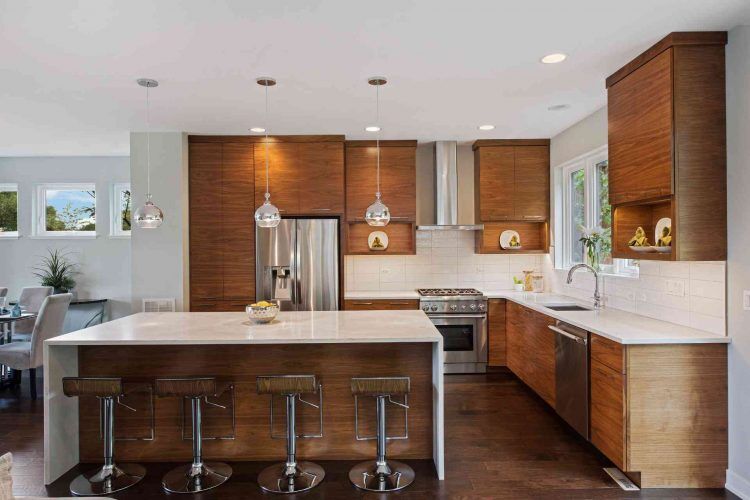 Welcome to Pro Utah Remodeling's ultimate guide to the most anticipated Trends in Kitchen Cabinet Design.
As a leading Bathroom Remodeling Company in Utah, we take pride in providing our readers with precious content that leaves them saying, "Wow, I need to save this."
This blog post will delve into the latest Kitchen Trends, showcasing an array of captivating New Cabinet Designs and Trending Kitchen Styles to inspire your dream kitchen makeover.
Embrace Sustainability with Eco-Friendly Materials
In the spirit of preserving our planet, 2023 brings a wave of eco-consciousness in kitchen design.
Sustainable and eco-friendly materials, such as bamboo, reclaimed wood, and recycled materials, are gaining popularity for kitchen cabinets. Not only do they contribute to a greener environment, but they also infuse your kitchen with a touch of natural beauty and rustic charm.
Timeless Elegance with Classic White Cabinets
When it comes to timeless elegance, white cabinets are an unrivaled choice. They continue to reign supreme, offering a clean and sophisticated aesthetic.
White cabinets can make your kitchen space appear larger, brighter, and more inviting, regardless of your chosen style.
Dare to Stand Out with Bold and Vibrant Colors
For the bold and adventurous souls, this year offers an exciting palette of bold and vibrant colors for kitchen cabinets.
Deep blues, rich emeralds, striking reds – these captivating hues add personality and flair to your kitchen. They create a striking focal point that will undoubtedly impress your guests.
The Fusion of Technology and Design
Step into the future with intelligent and tech-integrated cabinets. As technology evolves, so does kitchen design.
We witness the fusion of technology and functionality with cabinets featuring built-in charging stations, LED lighting activated by voice commands, and touch-activated doors. These innovations elevate the user experience and make your kitchen a hub of convenience.
Display with Grace: Open Shelving and Glass Front Cabinets
Display your kitchenware with grace using open shelving and glass front cabinets.This trend continues to soar in popularity.
Embrace the concept of showcasing your cherished dishes and glassware while maintaining easy access to your kitchen essentials. The transparency of glass front cabinets creates an illusion of space and adds an elegant touch to your culinary haven.
Harmony in Eclecticism: Mixed Material Cabinets
Embrace the harmony of eclecticism with mixed material cabinets. You can achieve a visually stunning contrast by combining various materials such as wood, metal, glass, or concrete.
This design approach allows for creativity and customization, giving your kitchen a distinct and individualistic personality.
Sleek Simplicity with Handle-Less Cabinets
Minimalism takes center stage with handleless cabinets. These sleek and streamlined cabinets offer a clutter-free appearance, perfect for modern kitchen designs. The absence of handles adds to the minimalist aesthetic and makes cleaning and maintenance a breeze.
Customize for Perfection: Personalized Storage Solutions
Every kitchen is unique, and customization is the key to achieving perfection. The demand for personalized storage solutions continues to rise.
From pull-out racks to drawer organizers and built-in spice racks, these solutions maximize space utilization and keep your kitchen organized and efficient.
Make a Statement with Two-Tone Cabinets
Make a bold statement with two-tone cabinets, a popular trend now. Using two colors or finishes for upper and lower cabinets creates a captivating visual contrast that adds depth and character to your kitchen design.
Elegance in Matte Finishes
Glossy finishes step aside to make room for elegant matte finishes recently. These sophisticated surfaces offer a touch of refinement to your kitchen. Additionally, matte finishes are practical, as they are less prone to showing fingerprints and smudges.
Hardware that Speaks Volumes
Remember to underestimate the impact of statement hardware on your cabinets. Unique and eye-catching hardware pieces continue to captivate homeowners.
From sleek modern handles to vintage-inspired knobs, these small details can transform your cabinets and complement the kitchen aesthetic.
The Multi-Functional Island Hub
Kitchen islands will transform into multi-functional hubs. Homeowners are increasingly looking for islands with built-in storage, seating options, and integrated appliances.
These versatile islands become the heart of your kitchen, serving as a central space for cooking, dining, and socializing.
Contact Pro Utah Remodeling today at (801) 432 – 0870 or visit our website www.proutahremodeling.com to embark on your kitchen remodeling journey!
Textures that Intrigue
Textured cabinets take the spotlight today. Smooth and plain surfaces give way to cabinets with raised patterns, wood grain textures, and brushed finishes. These textures add depth and visual interest without overpowering the overall kitchen design.
Concealed Appliances for Seamless Integration
Continuing the trend of seamless and integrated kitchen designs, concealed appliances will make a mark. Homeowners opt for cabinet-matching or hidden appliances to create a cohesive and clutter-free environment.
Backsplash as Art
While kitchen cabinets steal the show, the backsplash offers an opportunity to make its statement. Bold and intricate backsplash designs reign supreme.
From geometric patterns to hand-painted tiles, these artistic backsplashes add a touch of individuality to your kitchen.
Kitchen Cabinet Design, Your Dream Kitchen Awaits
In conclusion, the 2023 Trends in Kitchen Cabinet Design offer various options for every taste and style. Whether you prefer the classic elegance of white cabinets or the boldness of vibrant colors, Pro Utah Remodeling is here to bring your dream kitchen to life.
At Pro Utah Remodeling, we are passionate about creating spaces that inspire and impress. Our dedicated, skilled designers and artisans are to delivering top-notch quality and turning your vision into reality. Transform your kitchen into a hub of beauty, functionality, and the latest trends with our expert services.
About Us
Here is the list of cities Pro Utah Remodeling provides Kitchen Remodeling. The company also covers the areas around these cities: Alpine, Vineyard, Orem, Lindon, Lehi, Herriman, Eagle Mountain, American Fork and Saratoga Springs.
Click on the city/area you live and complete the form. We will contact you as fast as we can!
Have you already worked with us? Please give us a positive review to help our company grow!